Posterior tibial tendon dysfunction (or adult acquired flat foot) is a potentially serious and disabling problem. The biomechanics and how the arch of the foot functions is crucial to normal walking gait and biomechanics. The arch is stabilized or supported by a number of things, including the shape of the bones, the muscles and ligaments and the plantar fascia. The posterior tibial muscle is one of the key muscles in the dynamic support of the arch of the foot. It is a very strong muscle that is in the leg and its tendon passes down the inside of the ankle joint and attaches underneath the bones of the arch of he foot were it is important at supporting the arch. In some people, this muscle seem to lose it ability to support the foot, especially if the supination resistance is high and overpronation is present. This results in this condition of posterior tibial tendon dysfunction or adult acquired flat foot. This is a different condition to posterior tibial tendonitis and looking around forums, many do get confused between the two, especially runners.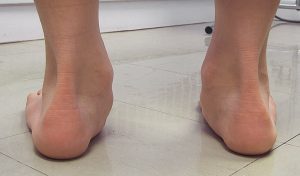 This condition usually starts as just a mild ache or discomfort in the arch or around inside of the ankle joint. The arch of the foot progressively falls and the ankle rolls medially and inwards. This is all because the posterior tibial muscle not being able to do its job of supporting the arch properly. If treatment is not started soon, then the pain and deformity progressively gets worse. If the treatment is not started soon and it reaches end stages it can be quite disabling and very painful. It eventually can have significant impact on quality of life and a significant affect on the ability to walk.
As the long term sequela of this Posterior Tibial Tendon Dysfunction can be so disabling, it's extremely important that it is diagnosed as early as possible and treatment started. In the early stages, the preferred treatment are usually quite firm or rigid foot orthotics or supports. They have to be firm as the supination resistance forces that are flattening the foot are so great that they need to be resisted by something form. Any type softer support will do nothing and be flattened. Also helpful are high top hiking or basketball like shoe or boot as they help stabilize the rearfoot. If this is not working as well as it should, then more complicated ankle braces, such as the Richie Brace, are the next step. If that bracing fails or the treatment is started too late, then the only satisfactory option is surgery.
{openx:878}